An Introduction to Event Management and Marketing
---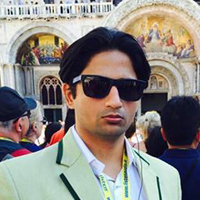 By
Abs
| Last Updated on December 2nd, 2020 1:04 pm |

5-min read
Event management has become a popular profession in the past decade. Event management entails organizing an event or function – from a wedding to product launches and corporate conferences. Anything that happens and brings people together can be considered an event. It could be the launch of a new model of an SUV or a retreat for corporate team building activities.
The task of an event manager is to plan the budget, logistics, decor, food and beverages, rewards and recognitions, etc. and bring all the elements together perfectly.
It is no easy task and requires ceaseless work by a dedicated team. Through an event management course, you can understand the duties and responsibilities of an event manager and effectively fulfill them.
Here's an informative video that talks about the basic responsibilities of an event planner.
(Above video is a part of a more elaborate course on Academy by Appy Pie. To access the complete course, please Click Here, or continue reading below.)
Let us look at the various aspects of event management in detail.
Key Components of Event Management
An event manager needs a clear comprehension of the tasks and functions they have to shoulder.
Establish an objective

This happens in a series of meetings with the client. An event aimed at experiential marketing exercise will be different from wedding event management.

Much of it consists of asking the client numerous 'what, when, where, why, how' questions. Of course, they might not have an accurate idea but an abstract concept. It is the task of the event manager to translate these into a tangible form.

Set up a budget

One of the foremost tasks of event management companies is to help with budgeting. The allocated event budget has to be used as efficiently as possible. Considering that most events have expenses for venue, transport, food, beverages, recreation, wages, entertainment, and, most of all, the event manager's fees, this is one of the toughest components of the work. Cost overruns may occur, but it is a last resort since client's do not take kindly to inflation of budget after allocation.

Storyboarding

Storyboards are an idea that event managers have taken from film directors of the past. It is an accurate depiction of the design of the event with expert sketches.

Of course, it requires having an adept artist in the team. Still, the method enables clear communication of ideas between the client's team (personnel from corporate PR and communication) and the event management personnel.

Some event management services use intuitive software such as StudioBinder in place of actual sketching. While that is a more high-fidelity depiction, it also takes a lot of man-hours to create animation mockups, which add to the cost.

Venue Selection

Once the budget is completed, and the concept is approved, the rest of the task is purely legwork. The venue has to be selected and for this, quotes are obtained from different hotels and resorts.

The availability of venues varies widely depending on the time of the year, and clients often depend on the event company to tap into their contacts in the hospitality industry to hire banquet halls and auditoriums.

Here's a video that tells you all about getting the venue for event management and planning

(Above video is a part of a more elaborate course on Academy by Appy Pie. To access the complete course, please Click Here, or continue reading below.)

Logistics Management

An event is bound to involve guests who require transport. The travel arrangements of all or some of the guests have to be planned and travel arrangements need to be made. Then there is the matter of pickup and drop from the airport to the venue.

Some events might require luxurious sedans for important guests, and it all has to be planned in the most granular detail.

Obviously, with limited personnel at your disposal – say a team of eight – you can't hope to be everywhere, and the smallest delay in one of these many moving pieces can cause disaster.

Vendor Management

The event manager is also tasked with the complex responsibility of vendor management. Getting the right price, ensuring that vendors deliver on time, keeping both the vendor and the client happy – it takes some doing.

This entirely is the duty of event management companies. A magnificently planned and executed event can seem off-color because few of the flowers seem droopy and a day old or because a Bluetooth mic fails to work at the exact moment of the car launch.

The quality of vendors has to be assured by the event manager.

Event Marketing Plan

It is not enough to have an event, but a considerable amount of event marketing is required.

Open door events like product launches are not only about the event itself but the event promotion surrounding it. Through the use of media, the event marketing plan has to control the exposure of the event to the wider public.

Check out this video that talks about the top strategies to promote events.

(Above video is a part of a more elaborate course on Academy by Appy Pie. To access the complete course, please Click Here, or continue reading below.)

Execution

Event management operates on the principle that anything that can go wrong will go wrong. Successful event management has a lot to do with backup planning.

The client will accept no excuses for failure, and it will forever hurt the manager's brand if he does not deliver during event.
What do event planning courses teach?
Event planning and management is a type of project management. What does the best online event management course from Appy Pie teach? Let us take a look.
Communication

Due to its complex nature event management course has to involve training in communication. Clear, effective, and unambiguous speech is the lifeblood of corporate event management.

Leadership

A top event executive has to lead from the front. From drawing up plans to putting into place redundancies, it requires superb leadership. The client has to be appeased, vendors have to be guided, and the smooth segue from one segment of the event to another should happen like a well-choreographed ballet.

Action

Any artist can draw a storyboard. Executing that storyboard into corporate management events is a whole different set of capabilities, and that's why event managers are paid highly. It is one of the most essential skills that you learn with Appy Pie's event management course.
Eventually, the whole point of getting into the business of event management is to make money. Here's a cool video that talks about different ways to generate revenue from your events.
(Above video is a part of a more elaborate course on Academy by Appy Pie. To access the complete course, please Click Here, or continue reading below.)
Conclusion
Event management is an intricate chain of plans and events, from concept to fruition. In fact, it is due to event management's complexity that renowned event managers only specialize in a few types of events.
It is a very rewarding profession, and the hard work that one puts in pays off well in financial terms. With an attractive event management website for advertising, optimized Facebook Ads, continuous SEO for your events' webpages, you can attract eyeballs and make your events successful.
It is a suitable career for those who feel up to the challenge. It is definitely not for those who are faint of heart.
Did you know that you can create your own event management app without writing even a single line of code? Get started with Appy Pie's event app builder and create your own event management app in minutes!