App Maker Disney to Open New Star Wars Resort Hotel featuring Behind the Scene Video of the Last Jedi
---
By Aasif | Last Updated on December 1st, 2017 1:58 pm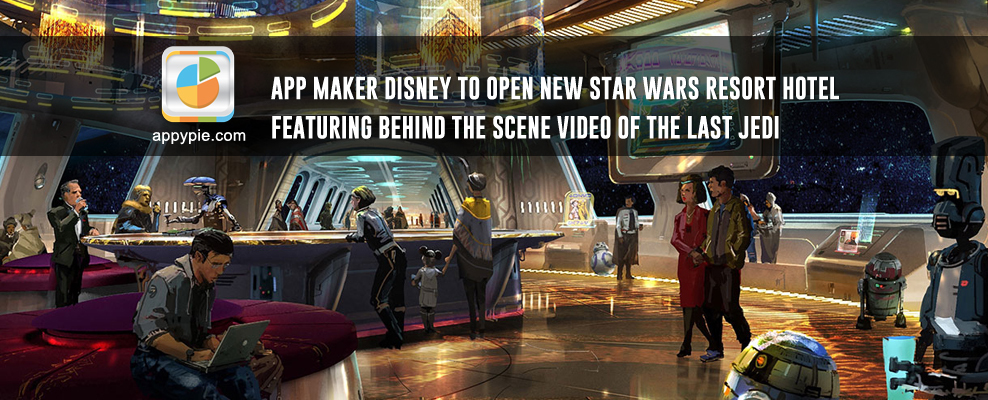 App Builder Appy Pie, Aug 14: Woweeeee. Disney has announced something so cool that has swept Star Wars fans off their feet. The news is so amazing that we hardly need a sentence to express it: Immersive. Star Wars – The Last Jedi. Resort.
App Maker Disney recently dropped this bombshell in its Los Angeles D23 expo down. Yes, you got it right! They are all set to open new Star Wars Hotel that will be featuring behind the scene video of the Last Jedi, the upcoming second sequel of the American epic space opera movie trilogy.
Though the details are still on hold, but, so far what we know – Disney is planning to
submerge fans into the life and world of Star Wars, providing them an unforgettable experience of lifetime.
Here's what Star Wars Resort will be featuring:
Cast members or employees will be in Star Wars costume, playing the role of the specific character
A storyline for guests covering every single minute of their day
A tour of a galaxy, which means guests will embark on a spaceship and have an adventure similar to an experience in the show Westworld
The hotel is schedule to open sometime in 2019, so if you don't get the opportunity to experience fun at Walt Disney World Resort in Orlando, you can always visit Disney's Galaxy's Edge lands in California and get a deeper look into Star Wars world.
Almost every Star Wars fan go crazy when any third party throws a Star Wars – themed weekend. But, now Disney Imagineers and Lucasfilm has provided an approval for this Star Wars – The Last Jedi themed resort in California, leaving fans stunned and speechless.
More information about this Star Wars themed resort is yet to roll out, but fans has already gone insane and sharing the experience over social media.